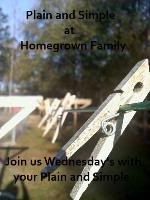 If you would like to join in you are more than welcome. Add a link to your Plain and Simple Post in the Linky gadget below. Please add a link to here in your post so others can see what others are doing in there homes.
at the cottage....
gardening, lots of it, everything is taking off beautifully this past week. Warmer temps and lovely days have boosted everything. Potatoes above, love them!
Pippin thinking he is helping me rake leaves. He kept taking running head dives into the piles and burying himself. More raking today to mulch the garden more I love this no till deep mulch our garden soil has started looking so healthy and a deep rich color.
Yguy taking off the blue railing for me. He is growing up so fast doing things around the house for me and other things the man of house would do. Of course he is also being very territorial with his dad as well. LOL I thought dogs and cats did that not humans, but no human males do it too. It can be trying at times but also very funny.
Hubby digging wild roses for me over the weekend.
We dug them off the side of the road they were everywhere and so pretty.
Using onion skins to color eggs, Yguy also used cloves, blueberries, paprika it was very neat to watch.
I hope all have a lovely weekend and Easter. Ash sewed herself a dress Saturday while hubby worked and Yguy did a 30 mile bike ride. He has 100 more miles to go and he will have finished his cycling merit badge.
We have had such windy days lately but humid the temps are suppose to drop some tonight. The turkeys and ducks have been moved to their outside homes. The ducks their permanant one the turkeys to the area they will grow some in before they are moved to a more permanant place. Kittens are meowing in the barn, mama was preggers and so we couldn't get her fixed since she was to far along. But, she will be after these are weaned.
Garden growing, days longer to work outside in the evening, plans for summer camps in the making, lovely flowers blooming, clothes whipping in the wind, suntans starting to golden, and the lovely smell of spring and fresh grass is a welcome thing.
Have a Blessed Day
Love,
Erika