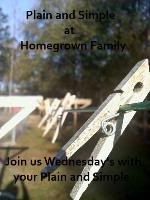 at the cottage....
New curtains in our room made with vintage pillowcases.
Herbal Salve making for sore muscles etc. This is making the oil first then the salve...
Update: We did make the salve and I just love it of course I have only had it for a day. But making something all by yourself is very rewarding.
Dogwood blooms brought into the house and are beautifing the house in vases everywhere including the bathroom. This one is the biggest in my favorite vase, a milk glass vase I found for $1. I found the same one at an antique for $10.
The Wisteria in bloom
Of course we had to bring some in to fill the house with the lovely fragrance...
Heaven surely has this aroma throughout....
sewing....Ash sewing pink pajama pants for a "P" party (pink, purple, pizza, pajamas, popcorn, etc) that the YW hosted before the YW Broadcast. She made me a pair as well mine had little strawberries on them.
Collecting more stuff for a yard sale hence the bag under the table behind her.
Below is the fabric for 2 of my new skirts, I will show you more in another post.
Fruit smoothies love them...They are in new glasses I found at the thrift store, love them, they go with the 1/2 gallon mason jar pitcher I found a couple months ago.
How was your plain and simple week? I'd like to learn from you please post and link back to this post using Mr. Linky. If you don't have a blog leave a comment in the comment section.
Please use the above header by using the link on the side bar it will link back to my blog so others can learn from us. Or just link back to this post.
Have a Blessed Day...
Love
Erika