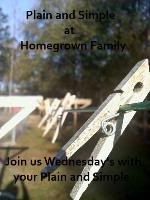 Starting next Wednesday we will have our Plain and Simple post. Like I said on Tuesday, I would like to start inviting others to share their plain and simples, this way I can see and learn from all the lovely women around the world.
I hope you share what you are doing or learning with me on Wednesdays. Post pictures and/or just write out what you want to share. I will have a Mr. Linky so all can link to this post and we will have a collection of plain and simple ladies sharing and learning together. Those who do not have blogs can leave a comment as to what they are doing.
I originally wanted it on Tuesday, but have decided to change it to Wednesday. My friend
Emily
, has a wonderful carnival going on Tuesday's and I didn't want to complicate the day. If you would like to join in on her
Prayerful Tuesday
I am sure she would love it.
Please use the header above by using the link on the sidebar it will link your post to my site. I am excited to see what I can learn from so many wonderful women. Feel free to place the the button for Plain and Simple on your blog or my button for this blog.
have a blessed day...
Love,
Erika