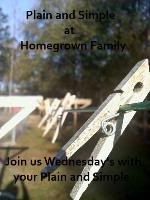 at the cottage....
making cultured butter, this is so good has such a flavor to it.
making sour cream from cultured sour cream we haven't tasted it yet but it turned out well. Oh and the ketchup went over really well last night at dinner. The picky one loved it and its thickness.
soaked wheat pancakes and bacon for breakfast one morning. Very yummy, the cast iron pan was a freebie from someone I love it and use it alot.
Ducklings growing they are Khaki Campbells and cute as can be. I have missed having ducks, we have poults coming in this week sometimes, Broad Breasted Bronze, no heritage breed this year we are thinking of trying them next year though. Oh, and Debbie the calf in the picture I posted a few weeks ago is a Jersey and sadly not ours I took it at the farm we buy milk.
Pineapple vinegar, made with sucanat that is why it has that brown color. I am bound and determined to make this I have tried twice and each time bombed at it. So I am trying again....
The sour dough starter is doing wonderful it is happy and healthy and has given us a few goodies this week. Sour dough cinnamon rolls, choc cake, pizza dough, this morning I pulled out 1/2 for biscuits for dinner tonight. Below is the cake with coconut icing.
This is my kitchen this morning. I have taken several things off the counters and am in the process of streamlining things some. Of course in the below picture there are some of the goodies I have been making this week and our infusion pots working away. The dishwasher is leaving us soon and shelving is taking its place.
And last but not least Ash in her camie pants hanging laundry. My daughter beats to the tune of her own drum, and I am OK with that she is unique and her own person, I am very proud of her and the person she is.
This week is a slow week, thank goodness! Tomorrow Yguy and another boy scout are working at a friend's home to earn money for their scout troop, they need supplies and equipment and the boys need to work for it. They are doing a week long camping trip in June such fun. They are also doing a 15 mile bike ride Saturday.
Our Gnowfglins journey has taken us many places this past week and we are having so much fun with it, well I am at least. I am feeling better too, it is amazing that food can make you feel yucky and you don't even realize it till you cut it out.
We have been working in the garden every day this week, before school and it is doing great. I love this time of year, and I know I say that alot, but it can't be said enough. We have over 40 tomato plants all heirlooms, peppers, eggplant, potatoes, strawberrys, raspberrys, summer squashes, celery, leeks, beans several kinds. We are using all heirlooms from seed savers exchange this year. Except the potatoes they are from the feed store. The fence isn't done yet but the rabbits can't get it. :0)
I am thankful daily right now for the green that is sprouting everywhere, the birds singing their joyful song, baby animals everywhere, even the opposum we found trapped in a feed container last week she was fat with pregnancy and waddled away when we let her go, the fresh clean air, the silence I hear as I sit outside. Not complete silence, but silience of all manmade things only God's treasures abounding around me.
I hope your week is plain and simple and fully blessed.
Love,
Erika
If you would like to write a Plain and Simple post I would love it and I would love for you to share with me and others. Leave a link to your post in the linky below and in your post link back to here.