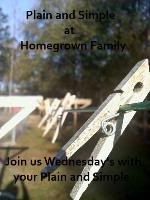 at the cottage...
Yguy and I found a Passion Flower at the produce stand. It is really an old house they have turned into a plant, veggie, amish stuff, etc place. We buy our local honey there and local produce when they have it. It looks very other worldly I think, they told us it grows wild around here.
Hubby and I did our date grocery shopping this past Saturday and stopped at a Antique/yard sale on the way home. We found five wonderfully old bowls. I just love them and using them makes me feel good. Here are three of them, one is drying, but its like the big one on the left, the fifth is under the little blue bowl in the back it has sour dough biscuits in it. The little blue one I found at an antique store Friday when my mom and I went. It has sour dough crackers in it.
Both of those are in the oven right now. We are going on a hike today and taking lunch, instead of sandwiches we are taking fruit, cheese, and crackers and maybe homegrown and home canned chicken made into chicken salad. Haven't decided on that yet.
We also found at the same yard sale antique canning jars. Of course I grabbed them since I like to use them in my pantry. Most are filled already with sucanat, nutritional yeast, cane sugar, baking powder, baking soda, etc. I love the squarish Atlas ones and our lids fit them perfect.
There were also the old Ball canning jars with the glass lids, there is one on the right with its lid being used. Only one had a lid but the others I am using for fermenting, and culturing things. Since all they need is a clothe on top. The kids said to turn them into hanging lamps with candles. We will see....
See the sour kraut on the right? Its purple cabbage....The kids did a biology experiment yesterday and only needed a couple of leaves off of it so I pounded, salted, wheyed it and now it is sitting in its own purple juice to ferment for 5 days
For a few weeks now I have been making our own sour cream, and thought I would share how, so you too can do it.
We buy 2 gallons of milk a week from the diary farm around the corner. We don't drink alot of milk maybe a gallon a week, at the end of the week on Friday I will take the remaining milk and divide it into jars for culturing. One is buttermilk, yogurt, and sour cream.
We buy on Saturday mornings and put each gallon in 2, 1 gallon jars so the cream will rise. Monday morning I skim the cream and culture it for butter.
To make the sour cream I add whatever is left of the week befores sour cream into a clean jar and fill the jar with milk. The size of the jar depends on how much milk and how much sour cream I have left. You need 2 tbsp for 2 cups of milk. When I first did this I used Walmart brand sour cream that had active cultures in it. You have to make sure yours has this or it won't work though you can use buttermilk.
Let sit covered with a clothe for 24 hours on the counter. The next day chill, that afternoon I will take it out and let the whey drip out like I do our yogurt. We like it on the thicker side, so I put a coffee filter in a colander over a bowl or pot and pour it all in, cover, and let it sit till its where I want it.
We like it and have noticed no difference except for the consistency isn't as thick as storebought.
But, I don't buy storebought anymore of any of those products.
Last week Ash and I picked dandalion blossoms, dewberries, and plantain. Yguy sharpened the antique shears for me and I use them to cut flowers etc. They aren't very sharp but do the job I want them for wonderfully.
I have been thinking alot of the life I have choosen and wonder what others think. I am a simple person who prefers to have things very basic I get overwhelmed otherwise and to dip my toe into worldiness makes me so anxious. I have lived like that in my early 20's striving to be what the world wanted of a wife and a mother. And I have to say it was not fun, though at the time I thought that was all there was.
To truly find yourself isn't easy, but when you do or you at least see a glimpse to work towards it takes so much stress off you. You have a direction.
My choices aren't perfect, I don't have the perfect life, I suffer from anxiety bad enough to have to take medication for it. Which I dislike tremendously, but it keeps the panic attacks and anxiety at bay and that I am thankful for.
I have discovered since this affliction decided to make its home within me to slow down to rediscover me. I have been bombarded so much over the last three years with such hateful things from a source that is very unhappy with her own life that I have forgotten about me. Oh yes I walked daily in the direction I always have, but then started questioning my own self worth, my own reason for being because of the nasty things this person wanted me to feel.
I have taken this time to cultivate my relationships with my family, the few close friends I have, and see myself within. Has this helped with the anxiety, some but it is still there and that is something I am learning to live with and work with. Use it to help me, living a simple life makes it all easier to manage.
I am an introvert and my home is my haven, my garden my paradise, my loved ones my anchor, Heavenly Father my comfortor, Jesus Christ my Saviour.
I hope each and everyone of you have a blessed day.
Love, Erika
If you would like to join in on this Plain and Simple Wednesday please leave a link to your post here below in Mister Linky. I and others would love to hear of your Plain and Simple Life to learn from and grow from. All I ask is to keep it simple and to add a link to my blog in your post.