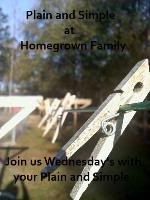 To join in Plain and Simple Wednesday just post on your blog about your simple life. Post something that you do that makes you feel simple and plain. Then add the above button and link back to here and add your link to Mister Linky below. I love hearing others simple lives and simple things. It helps me learn to keep things simple. If you don't have a blog then leave a comment and tell us what you do.
at the cottage this week....
a hummingbird visiting our feeder on the back porch while I was sitting enjoying the day.
Lemon Cordial making. I like to keep fresh lemons in the kitchen for different reasons mainly I just really like them. But, this bowl I didn't get to use all of them before they started looking like they needed to be used. I didn't want them to be wasted so I juiced them all and made lemon cordial.
It is rather easy to do and it is very good. In the US we would consider a cordial alcoholic, but it is not in other parts of the world. You can make them with any fruit you can juice. Here is a link to recipes for fruit cordials
I made mine and then added sparkling mineral water to make a fizzy drink. So much better than sodas which I am addicted to. I love the bottles for this mineral water I see them being reused for all kinds of things.
I also made orange cordial from some oranges that were needing to be used.
Here are the kiddos volunteering at our Bishops Storehouse. Ash was getting overwhelmed by all these men as she checked this order. :0)
And yesterday the kids and I made hot press soap or crock pot soap. I really liked this method alot and it was so easy to make. I see us doing this alot, I will post more on how we did it later after we make a few batches. I found this
post
and took off from there. There is a wonderful web site with a
soap calculator
that was so helpful with this process and helping make this first batch.
This week has been productive in learning new things. Like the soap making and lotion making. I would love to hear more from others who have done either of these things and what they have learned.
I hope your day is fullfilling and blessed.
Love,
Erika