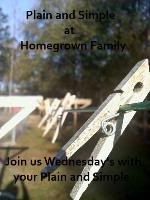 at the cottage....
Herbs! I love them the aroma from the box when the order comes in...Heaven. I was asked if I had a hard time finding room for it all and yes, I wish I had a stillroom with shelves and cabinets for it all. My cabinet and 2 drawers are filled to the max and then this order topped the shelf in the pantry that was starting to fill up.
I have found a primitive cabinet at a local antique shop I would love but my house is so small where would I put it!
The Calendula is so pretty in the bag I might fill a jar with it just for something pretty.
Cottage sausage. Yesterday, I ground a pork roast and made sausage with it, it is very good sausage and not all fatty. It tastes so much better than storebought. You need a certain amount of fat its 2 parts meat to 1 part fat. I used less fat than that though, I trimmed off excess and only used a little that remained.
You need Ground Pork about 2 1/2 lbs and a tsp of each seasoning unless otherwise noted.
Garlic powder, sage, parsley, white pepper, sea salt, and 1/2 tsp cayenne. I have used 1 tsp of cayenne and it is good, but has a bite.
I liked that this doesn't have all the additives that so many things nowadays have. Now if we could find pastured porkm or just go ahead and raise a pig it would be even better.
I found these wonderful knife racks and we hung them over the stove I love seeing all the knives up there some are not there right now though. :0)
Ok, we made hot press soap and Yguy prefers liquid in the shower so the three of us made liquid soap Monday and Tuesday in the crockpot. It is a 2 day affair but not nearly as hard as I thought it would be. I was thinking I might start making soap for the year once a year or make soap in the fall and spring so every six months. I am going to gauge how long this recipe and the bar soap lasts and then go from there.
The how to and recipe is here, we used canola and olive oils since I have a jug of canola I am trying to use up since we are limiting its use. And what better way to use it than in soap. The calculator I use for the lye to oil is on the side bar.
More butter making and below soft spreadable cheese from my Gnowfglins learning. I have bounced around with the course and finally was able to order the cheese making stuff and so I am starting with this simple cheese. I don't need to let it drain as long as they say it was very dry kinda like ricotta, but we added some milk and made it creamy and good on crackers.
Feeding this morning food for babies and food for biggers ones, as well as a waterer to take fresh water to the babies. See my dirty shoes peeping out from under my skirt. I am going to make an apron just for yard work with big pockets since this morning I dropped my phone almost in the duck water but in landed in duck poo instead. :0) Which was disgusting, but much better than the tub of water.
My phone was with me since I was taking pixs with it, not because I was on it talking. I actually dislike talking on the thing.
And the babies, well a pile of babies that aren't really all that little anymore.
The apron I would like to make maybe I can get the fabric for it tonight or tomorrow since I don't have enough in my stash to do it.
I hope your week is as blessed as you deserve. Next week there will not be a Plain and Simple since I will not be in town to do it. So see you in two weeks.
Love,
Erika
If you would like to participate in Plain and Simple Wednesday please do. Post about something you do that makes you feel plain and simple something that is unique to you. We all see plain and simple in different ways, but we can all learn from each other.
All I ask is you add a link to your post linking to this blog and post. You may use the button on the top of this post, the code for it is on the sidebar.
Put the link to your post in Mr Linky below and then I and others can see what you've posted.